welcome to

West Lakes Dentistry!

Here, you'll find an enthusiastic team of dentists who are both knowledgeable and compassionate and a positive atmosphere that allows you to get the care you need without making you feel like just a number. We take time every morning to discuss the patients coming in that day and how we can make them feel welcome. We hope you feel at home with us! Your health and happiness are of the utmost importance to our team. We offer many amenities, services (including implant dentistry!), and patient-to-doctor discussions all in the name of giving you a unique and delightful experience.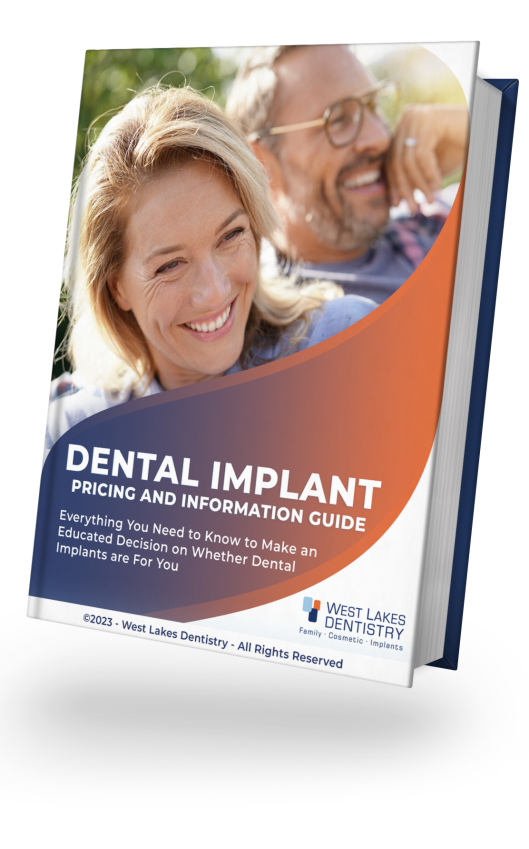 download our dental implant pricing & information guide
Fill out the form below and we will email/text you the guide along with a
$350 savings offer!
What Our Patients Say
I love this office! EVERYONE is friendly and approachable. I'm not someone who enjoys the dentist, at all. Each and every technician as well as Dr. Miner, all take the time to reassure me and make me feel comfortable. They also won't recommend unnecessary procedures. They recommend only the things you need, so I trust them with my health!
-Amy T.
The people here were kind and very helpful when it came to an emergency tooth pain. They listened to me, fit me in for an appointment, and had me scheduled for a tooth extraction within a week. They gave me all the meds necessary to keep me out of pain, and to keep it from getting worse. I'm very grateful for their services! They were wonderful! And again, thank you!
-Briana H.
My first visit was professional, positive, and so thoroughly productive! I was completely impressed from the x-rays to the dentist's evaluation and recommendations.
-Robin K.
The team at West Lakes Dentistry is awesome! From my initial phone call to schedule my first appointment to the appointment itself everything was so personable. My dental hygenist was friendly and nice. Best of all, she was gentle on my teeth and gums during the check-up, always making sure I was comfortable. The whole experience was great and I'm looking forward to going back!!
-Jenny R.


1
WHAT SETS US APART 
WEST LAKE DENTISTRY: PATIENT-CENTERED
DENTISTRY IN CHASKA, MN
Fill out this short evaluation to see if YOU are eligible for dental implant treatment and what treatment would be best for you!