Request an Invisalign Consult
For those of us with crooked or misaligned teeth, adult braces can be intimidating. Metal brackets are quite visible, leaving many feeling uncertain if they really can achieve their smile goals. Luckily, with Invisalign clear aligners, you will be able to straighten your teeth while maintaining your privacy!
With Invisalign clear aligners, you will receive all of the benefits of traditional braces without all of the fuss. The Invisalign treatment works by using a series of clear trays that are custom-made to fit your unique needs, making them nearly invisible as you go about your day. You can even remove them for up to 2 hours at a time for eating, brushing, and playing sports.
At West Lakes Dentistry, we are here to help you get the smile of your dreams. Our kind staff wants to welcome you into our offices in either Mound or Chaska. We utilize advanced technologies to create a custom smile road map for you and your family, you will be able to see 3D scans and X-rays in mere minutes!
Are you ready for a straighter, brighter smile? Call us today!
What is the Invisalign Treatment?
The Invisalign clear braces system is an orthodontic system that uses clear aligners to gradually move your teeth into a straighter position. The Invisalign clear aligners are made of discreet, clear material and are custom-made to fit snugly over your teeth. They are designed to be gentle on the gums, lips, and other tissues.
When your teeth move into position guided by one aligner, it will be time to move on to the next, which will further move your teeth into alignment. This change between sets usually occurs on a weekly or bi-weekly basis, but we'll plan your personal schedule to determine how your teeth will move during the entire treatment process.
Each set of aligners moves your teeth for a couple of weeks before you switch to the next aligners in the series. These will move your teeth even further along in the plan. Each aligner is custom-designed to fit comfortably over your teeth and apply gentle force to encourage teeth to move.
Why Come to West Lakes Dentistry?Back to Top
At West Lakes Dentistry, our staff is very experienced in performing Invisalign treatments - we have straightening teeth with Invisalign for more than 15 years and are Gold Level providers!
We also use advances in technology to provide faster treatments with higher accuracy than traditional methods. With the iTero intraoral digital scanner, you won't ever have to bite down on impression molds to get a model of your teeth. The scanner will create a 3D image of your mouth in just minutes, allowing our dentists to show you the predicted results almost instantly!
Benefits of Invisalign Clear BracesBack to Top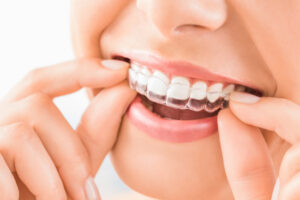 There are many reasons to straighten your teeth with Invisalign from gaining confidence in your smile to improving your oral health.
Health Benefits
Most people think that orthodontics is simply a cosmetic solution; however the benefits of correcting your teeth go far beyond aesthetics.
Correcting Your Bite: Crooked or misaligned teeth can lead to an improper bite, speaking or eating difficulty, and increased wear on the tooth enamel. Straightening your teeth with Invisalign can help improve your speech, chewing ability, and dental health.
Preventing Cavities and Tooth Decay: Crowded teeth are more difficult to clean, causing build-up of plaque that causes gingivitis and may lead to bone loss and periodontal disease. When your teeth are aligned properly, bacteria and food particles have fewer places to hide, and brushing is easier and more effective.
Longer Lasting Protection: It's not uncommon for crooked or crowded teeth to become sensitive over time. They can even become loose or change color. When teeth are straight and your bite is aligned correctly, your teeth don't wear out as fast because the top and bottom row fit together naturally.
Preventing Gum Disease: If you have swollen, red, or bleeding gums, it may be a result of your teeth being overcrowded or due to gaps between your teeth. When teeth are aligned, the gums fit better around the teeth, providing the best natural defense against infection.
Easing TMJ Issues: A poorly aligned jaw can strain your TMJ, which is the joint that attaches your lower jaw to your upper jaw. Straining this joint can lead to a wide array of painful and debilitating symptoms. Proper teeth alignment (dental occlusion), will help you avoid these symptoms and maintain your quality of life.
Bite Correction
Your bite is what allows you to eat and speak properly. Misaligned teeth can cause issues with digestion and your ability to keep your teeth clean and healthy. Overcrowding commonly causes cavities which can lead to further damage within the tooth which may result in the loss of the tooth entirely.
Crossbite. This is when the upper teeth cross over the lower teeth. It can affect just one tooth or an entire row of teeth. This can cause the jaw to shift to one side.
Open bite. This happens when either the back teeth can close but the front can't, or vice versa. Usually, this is caused by excessive sucking and can create issues with speaking.
Crowding. When there isn't enough space for each tooth to be in alignment, this results in teeth that overlap, rotate, or become crooked and difficult to clean.
Deep bite. If you close your mouth and the front teeth cover the bottom too much it can cause you to bite into the lower gums and/or the roof of your mouth.
Protrusion. It's easier to damage teeth that stick out. They can also cause issues with speaking abilities.
Underbite. When the lower jaw sits in front of the upper jaw, it can put unnecessary stress on the jaw joints, and the appearance of the face can be altered.
Spacing. Gaps between teeth can be from missing teeth, undersized teeth, or oversized jaws. It's easier to have debris caught in these areas, leading to gum disease.
A Better Alternative to Traditional BracesBack to Top
Invisalign clear aligners offer all the benefits of traditional braces without some of the drawbacks. Our dentist can more appropriately advise each patient for their specific needs, but here is a quick comparison of the two methods so you can make the best decision for you or your family.
Nearly invisible: With clear aligners, it's nearly impossible to tell that you're wearing anything at all! This allows you to be confident and comfortable while following your custom treatment plan.
Removable: You can remove your dental trays for up to 2 hours a day to eat and drink, so you can eat the types of foods you like without restrictions. And since you can remove them to brush your teeth and to clean the aligners, your teeth and gums will be healthier and your breath will stay fresher.
Great for mild to moderate cases: Invisalign treatment is designed for mild to moderate cases of misalignment. Our dentist will assess the current condition of your teeth and offer the best course of action for your goals.
Accuracy: Invisalign aligners can adjust your teeth more precisely because they connect to at least 3 surfaces on each of your teeth instead of one bracket on the front of each tooth.
Fast results: The average treatment period is faster with Invisalign over metal braces. With traditional braces, you will have to visit the dental office frequently to have them regularly adjusted. With Invisalign aligners, visits are less frequent and faster, and the only adjustment is switching to the next set of aligners.
Safety: You may cut your cheeks and lips more often while wearing braces made of metal and wire. That increased risk is avoided by the Invisalign smooth, comfortable design that is custom-made for your mouth from a medical-grade thermoplastic.
Reasonable cost: One of the best parts about the Invisalign treatment system is that it costs about the same as traditional metal braces. You can get the same great results without going through the hassle of multiple tightening appointments, flossing between brackets, changing your diet, and painful jabs from wires—all for the same price!
If you've been holding off on braces, now is a great time to come and chat with one of our experienced professionals about clear aligners! The Invisalign system is a series of custom-made dental trays that slowly move your teeth into proper alignment just like traditional, metal braces but without all of the fuss.
Perfect for Both Adults and Teens!
The Invisalign system is for anyone who has all of their adult teeth. On average, people qualify for Invisalign treatment at the age of 12 or 13. Both teens and adults can appreciate the discretion of clear aligners with the freedom of easy maintenance and storage.
How Long Will the Invisalign Process Take?Back to Top
At West Lakes Dentistry, we believe in being transparent with our patients and their families. Below is a list of steps involved in the Invisalign process:
Primary Design Consultation. During your first visit with us, our dentist will do an overall examination of the current condition of your mouth. We will walk you through your options and recommend the treatment plan that is right for you and your budget.
Custom Aligner Fabrication. Invisalign clear aligners are custom-made to fit each patient. This is done with 3D scans of the mouth that are sent to a lab for fabrication which takes about 4 weeks.
Wear the Aligner. The clear dental trays are easy to fit over your teeth and are just as easy to remove to allow you to eat unhindered. You can remove your Invisalign clear aligners for up to 2 hours a day.
Change to the Next Aligner. Every 2-4 weeks you will change your aligners for a new set as your teeth are slowly moved into position. Our dentist will set up follow-up appointments periodically to check on your progress.
Complete the Treatment. The average amount of time it takes to complete the Invisalign treatment is around 12 months. Each person has a unique set of teeth, so treatment may vary depending on your specific goals.
Maintain Alignment. It is usually recommended that patients wear a retainer for 12 to 22 hours a day after their Invisalign treatment is complete. This allows your teeth to situate in their new positions without moving.
At West Lakes Dentistry, we want to help our patients succeed with their health and smile goals. Every person's teeth are as unique as a fingerprint. Invisalign treatment works best for adults or teens who need mild to moderate adjustments to their smile and are looking for a virtually invisible method to improve their smile.
Our experienced doctors will walk you through the best course of action for your specific needs. Invisalign clear aligners make it possible to correct common teeth-straightening and bite issues, from simple to complex – all without interrupting your busy life.
While there is no shortage of invisible aligner companies, you don't want to trust your smile to just anyone. A trained Invisalign dentist is your best bet at getting the smile you want with no complications.
At West Lakes Dentistry we believe in our patients and their goals. It is our job to assess your current condition and provide the right treatment plan that works for you! With the use of advanced technology, such as the iTero Intraoral Digital Scanner, our doctors can show you what they see in just a few minutes with a flexible screen.
We offer Invisalign treatment for as little as $119 per month. There are lots of ways to make Invisalign treatment affordable. It may be covered by your health insurance provider, and West Lakes Dentistry accepts a range of health insurance plans! You may be able to pay with tax-free dollars from your FSA or HSA funds.
Are you worried because you don't have insurance? No worries! West Lakes Dentistry offers a variety of payment plans through our interest-free financing options. Don't wait on getting the health care that you need and deserve. We'll work with you to work out the best payment options for you.
The average time to finish the Invisalign treatment is between nine and 15 months. But the time it takes to complete the process will vary, because every patient's teeth are different. When you make an appointment with us, we can offer an assessment and help you visualize what your teeth might look like when complete. We will also schedule regular checkups with you to measure your progress over time and help ensure you're on the right track. An interesting feature for teens is that Invisalign offers "compliance indicators" that change color to show how often the aligners were worn. This allows parents to help ensure their children are wearing them correctly.
Invisalign clear aligners are made with a patented flexible plastic material called SmartTrack created exclusively for Invisalign treatment. Invisalign clear aligners are FDA-approved and contain no BPA, PBS, latex, or gluten.
Invisalign clear aligners are removable, so there are no food restrictions. As opposed to traditional wires and brackets that come with a long list of foods you have to avoid that can damage or get stuck in your braces.
Wear your Invisalign® aligners 20 to 22 hours a day to achieve the best result. Invisalign clear aligners fit your life. You can remove your aligners for eating, drinking, brushing, flossing, special occasions, and playing your favorite sport or instrument.
When worn accordingly and consistently, your teeth will shift into alignment just like they would with traditional metal braces. Invisalign clear aligners are designed to give you a straighter smile that will stay with you for the rest of your life. You may have to wear a removable retainer to keep your teeth in place.
You can expect your smile to last a lifetime with proper care and hygiene routines:
Schedule semi-annual appointments with us for cleanings and check-ups.
Follow our doctor's directions and wear your aligners accordingly.
Remove the aligners when you eat or drink, but wear them for 22 hours a day.
Contact Us Today to Start Your Invisalign Treatment
No matter your age or how long it's been since you've seen a dentist, you deserve a smile that makes you feel confident, secure, and happy. Your success is our priority, so give us a call today to schedule your Invisalign appointment!
*Invisalign®, the Invisalign logo, and iTero®, among others, are trademarks and /or service marks of Align Technology, Inc. or one of its subsidiaries or affiliated companies and may be registered in the U.S. and/or other countries.