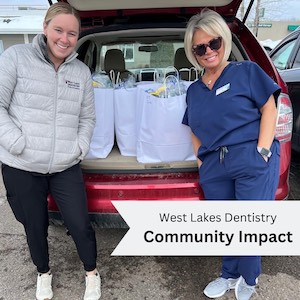 It is a priority at West Lakes Dentistry to give back to the communities that we live and work in. Each year, our team organizes our student bag project to celebrate National Children's Dental Health Month. This year, the staff at our Mound office worked together throughout the month of February to make close to 900 bags. Each bag included a toothbrush, a referral card, and a dental info sheet.
The bags were distributed to the offices of the following local schools: Shirley Hills Primary School, Hilltop Primary School, Our Lady of the Lake Catholic School, and Koala Bear Child Care.
Pictured are Sarah and Llora getting ready to deliver some of the bags!