West Lakes Dentistry would like to introduce their facial aesthetic services in Mound, MN. Performed by our experienced Dr. Angela Hastings, these services offer more options to help improve your smile. With safe dermal fillers and cosmetic injectables available at our Mound dentist office, you have more options than ever to achieve a real smile makeover. Discover the benefits of our facial aesthetic services, and find out which options can give you the look you've been hoping for.
Benefits Of Facial Aesthetics
Most of us have something we'd like to change about our appearance. That's normal, and it's okay. Now, we provide services to help you achieve an incredible smile while reducing the appearance of aging.
At West Lakes Dentistry, we take a holistic approach to smile design. We understand that your smile is much more than your teeth and your oral health. Your facial appearance can also impact the look of your smile. With our safe facial aesthetics services, Dr. Hastings can help to drastically enhance your look and make you seem years younger. Here are some of the features we can treat with these services: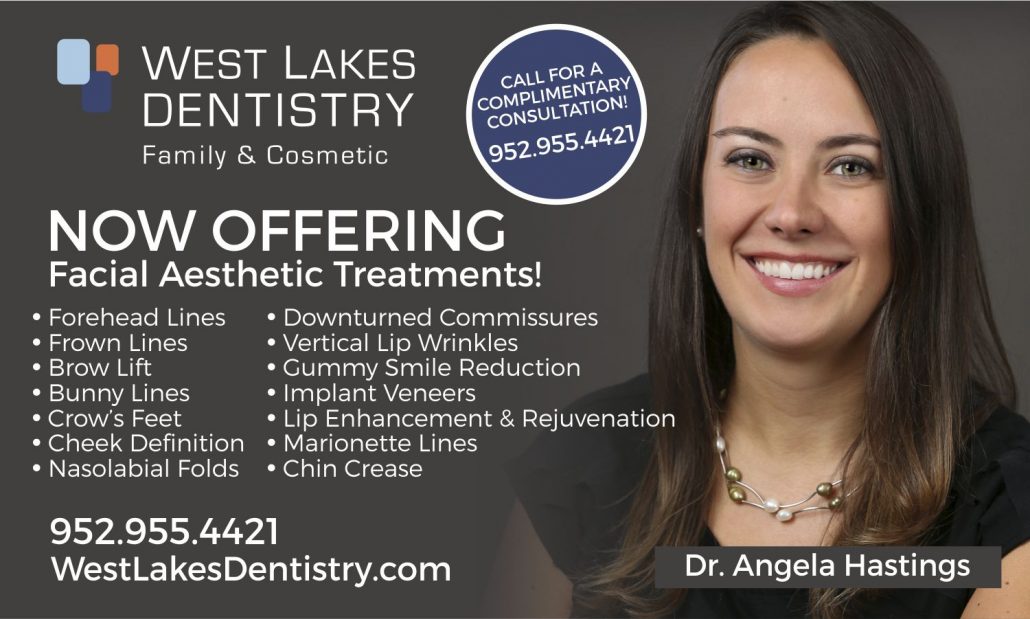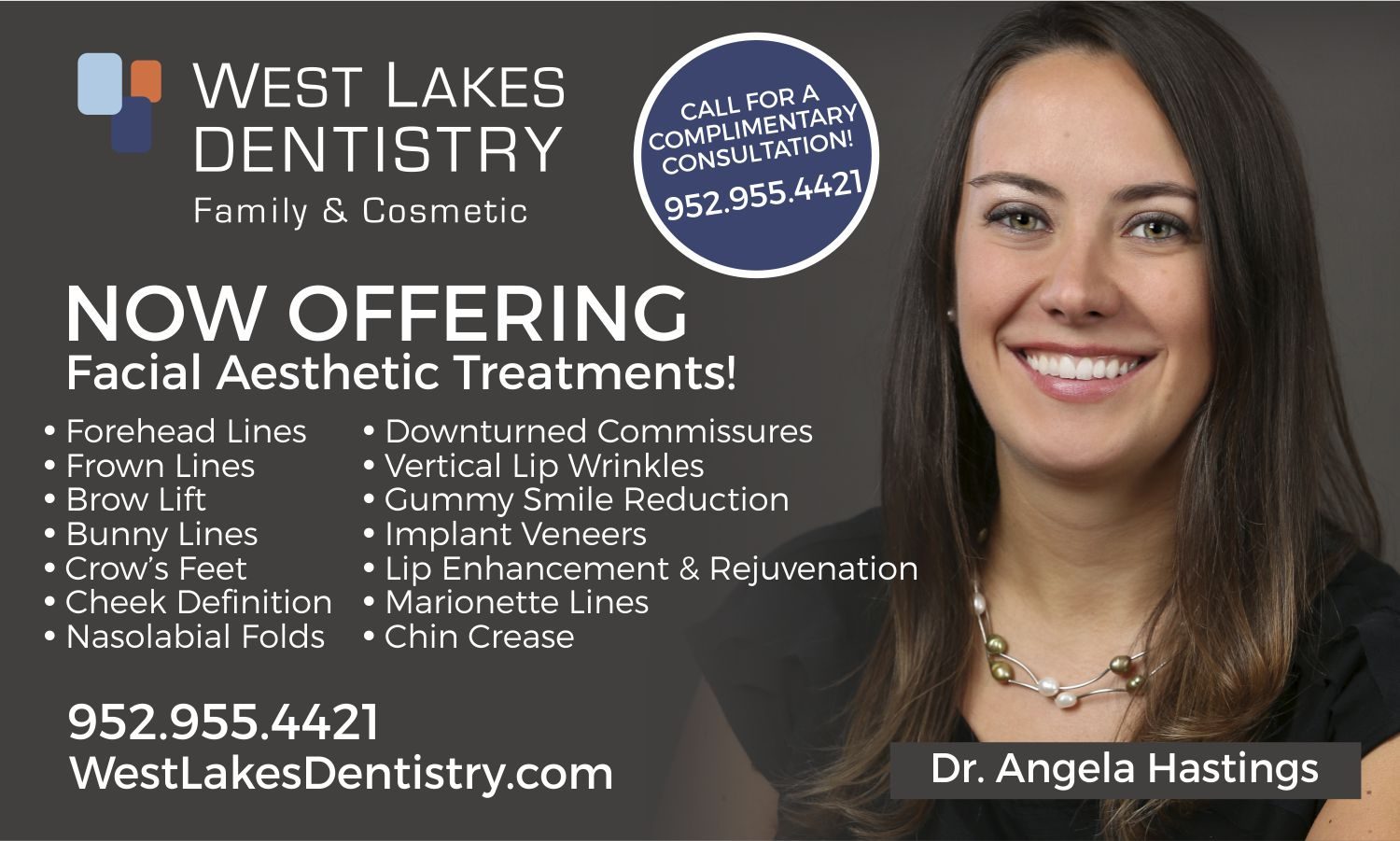 Botox Injections
Botox is safe when used by professionals, and Dr. Angela Hastings has the training and experience to ensure an effective treatment. Known as an excellent treatment for countering wrinkles and the appearance of aging, Botox works by relaxing muscles in parts of your face, thereby softening the wrinkles. The Botox treatment is extremely popular and is able to make many patients appear years younger. If you've ever wished you could get rid of some of your wrinkles, why not give our Botox treatments a try?
Dermal Fillers
Dermal fillers are used for a variety of facial aesthetic procedures. One of the most popular uses of dermal fillers is to plump up the lips of patients who want more definition. Patients who have scarring on their face from surgery or trauma can receive dermal filler treatments to reduce the appearance of scars. Dermal fillers also play a role in thickening the contours of a patient's face or in reducing wrinkles. Dr. Hastings can tell you more of the ways that dermal fillers can be used to make noticeable improvements to your appearance.
Why West Lakes Dentistry?
At West Lakes Dentistry, we believe in giving our patients the tools to make the best decisions about their oral health—and this applies to our facial aesthetics services too! When you walk through the doors of our Mound, MN location, you can expect to be treated like family. Our staff is happy to discuss your treatment options with you so that you feel comfortable with your decisions. You can expect to receive complete information about the services you request and any alternatives that may be available. As a gentle dentistry practice, we will ensure you are as comfortable as possible during the treatment and the rest of your time in our office. Visit West Lakes Dentistry, and together we'll form a cosmetic smile makeover plan tailored to your unique needs.
Try Our Facial Aesthetic Services In Mound, MN!
With highly-effective Botox, dermal fillers, and other aesthetic treatments, there's no limit to how you can enhance your look. Whether your crow's feet are holding you back or you always wanted to add a subtle plump to your lips, the friendly, experienced and professional Dr. Hastings can provide the facial aesthetic services you need.
Schedule your appointment today!