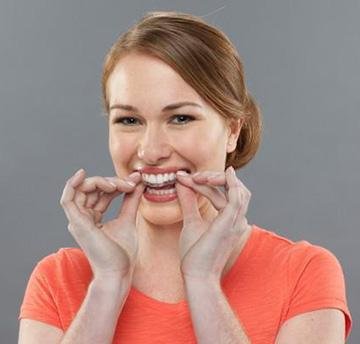 If you have crooked teeth and are thinking about straightening them, you may be presented with a choice between Invisalign braces and traditional braces. There are a few similarities between the two methods for straightening your teeth, but there are a lot of differences.
Understanding these differences is key to making the best choice for your treatment. If you have further questions, you can always schedule an appointment with your dentist or orthodontist to discuss your treatment options in more detail.
Similarities Between Invisalign and Traditional Braces
While Invisalign clear aligners and traditional braces may seem completely different, there are more similarities than you might immediately think. Invisalign and traditional braces share a purpose, have similarities in their process, and often give comparable results.
Purpose
Obviously, both Invisalign and traditional braces share a purpose: to straighten your teeth! In this way, they have a fundamental similarity. They are both ways to address concerns with crooked teeth, a misaligned bite, gaps or crowding in teeth, and other problems with tooth alignment.
Process
There are many differences between the process of Invisalign versus that of traditional braces. However, at a very basic level, the process is very similar. With both treatments, you will meet with your dentist to determine a treatment plan, get some kind of impression of your teeth taken, and have your teeth gradually moved.
Results
Because the purpose of both Invisalign and traditional braces is the same, the results are also very similar! While they use different methods and may have different timelines, both Invisalign clear aligners and traditional metal braces will both result in a straighter, better-aligned smile.
Differences Between Invisalign and Traditional Braces
While there are many basic similarities between Invisalign clear braces and traditional braces, the differences can still be significant.
Method
There are a variety of differences between the methods of Invisalign treatment and that of traditional metal braces.
Molds or impressions. While traditional metal braces usually get impressions of your teeth by preparing a soft material that you then bite down on to form the shape of your teeth, Invisalign clear aligners use digital scanning technology to take a mold of your teeth without messy and uncomfortable impressions.
Visits to the dentist or orthodontist. Typically, with traditional braces, you visit the orthodontist regularly to have your wires tightened, changed, or otherwise adjusted. While you will still need to visit your dentist so they can oversee your progress with Invisalign, you often need to go into the office less frequently.
When you wear your braces. Traditional braces aren't removable, so you wear them all the time. In contrast, Invisalign aligners are removable. You'll take them out to eat, brush your teeth, and floss. This makes eating more pleasant—no food stuck in brackets!—and makes maintaining good oral hygiene much easier.
Aesthetics
Invisalign clear aligners have a very different look than traditional metal braces. Made of clear plastic, they are nearly invisible. If you are an adult in the professional world, Invisalign is a much subtler choice. It's even available for teens, who also might appreciate a less obvious look than metal braces.
Technology
Invisalign clear braces take advantage of the latest and greatest in dental technology. Rather than taking a messy and uncomfortable physical mold of your teeth, Invisalign uses advanced digital scans to create a 3D model of your mouth. Additionally, Invisalign digital imaging technology allows you to see what your teeth will look like when you're done with treatment, giving you an idea of what you're working towards.
Call West Lakes Dentistry Now!
Don't let crooked teeth get in the way of your life. Call West Lakes Dentistry now and get started with Invisalign — the comfortable, convenient, and subtle way to get a perfect smile.